Do You Feel Overwhelmed With
All Of Your Marketing?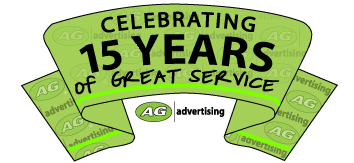 Let Us Handle Your Project! Individually, Effective, Easily And All Done-For-You!
Check Out Your 15-Year Specials Below:
Attention ALL Business Owners...
Are you using your advertising dollars wisely with your business on graphic design and web projects?
Stop throwing it away! Let AG Advertising Services handle all of your advertising, while you can spend more time with your business.
We offer full-service graphic design, web design, low cost printing and mailing solutions for any small business budget!
AG Advertising Services will make your business grow, and turn potential clients into valuable, long lasting customers. PLUS, making your company into the success that you have always imagined. Guaranteed.

We will Design it, Print it, Mail it, and in turn, will let you spend more time with your business. ALL for one low price.
Get a postcard custom designed, printed and mailed out to your clients for 79¢* per postcard mailed out! *based on 1000 qty black and white with bulk rate postage
Imagine having one source for all your graphic design and printing needs - from concept and creation to printing and mailing to your clients.
Why should you let Aaron and his team assist with your next project?
Aaron Is Honest And Trustworthy With You 200%. We hear about this all the time, lets say, after you spend months of the pre-hiring process to get your own internal, hired-on graphic designer, marketing manager and/or other employee within your company. Then all of a sudden, they will stray off and get hired on over at your competitors company. All of that hard earned work, time (and money) YOU have spent training them all for your competition! When you work with AG Advertising, you will NEVER have to worry about this problem, EVER.

25 Years Of Hands-On Experience In Graphic Design for your next project. You bring what you have and let Aaron and his team do the rest.

Over 10 years Of Experience with Technology Marketing Toolkit and all of Robin Robin's many other effective products and materials. There is no need to explain "Uncoventional Marketing" techniques to us that other designers/marketers just seem puzzled when you try to explain this.

Stalk Us Or Contact Us, Anytime - We Don't Mind. Other graphic designers don't attempt to work past the 8-5 scenario, and will you WILL NEVER get them on the phone. When you have custom graphic design work done with Aaron, You have the option to talk with him directly as he is making changes to your project.

Genuinely Personable Collaboration on each project using YOUR ideas as the foundation. We will create unique projects that will STAND OUT from all of your competitors, as well as, reaping profitable benefits to your company in the long run.